Nintendo Land is the biggest selling Wii U game, whilst New Super Mario Bros. 2 takes the 3DS sales top spot.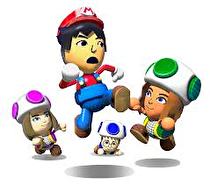 Nintendo sold 12.71 million 3DS systems and 3.06 million Wii U consoles in 2012, according to the hardware giant's latest financial highlights.
Out of the 3DS units sold last year, the 3DS XL accounted for 7.05 million of them, bringing the total lifetime-to-date sales of the handheld to 29.84 million.
On the software front, New Super Mario Bros. 2 achieved the highest sales numbers of the year with 5.96 million copies sold. The currently Japan-only Animal Crossing: New Leaf, which is due for release in the West later this year, took second place, pushing 2.73 million copies.
The Wii U sales data did not specify what proportion of sales were taken by the Basic and Premium console bundles respectively. However, software sales were pegged at 11.69 million units, which indicates an attach rate of approximately 3.82 games per system.
Nintendo Land, the pack-in title with the Premium bundle, was the top-selling Wii U game of the year, with 2.33 million copies, followed closely by New Super Mario Bros. U at 2.01 million copies.
As for the previous generation of hardware, the DS family of systems sold just 2.15 million units in 2012, but new release Pokémon Black and White 2 drove 7.63 million copies, making it Nintendo's biggest selling game of the entire year across all platforms. The Wii, meanwhile, sold 3.53 million units.