The closest thing to a degree in Mariology you can get.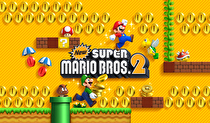 To celebrate the worldwide coin total for New Super Mario Bros. 2 reaching 500 billion coins, Nintendo Australia is sending out limited edition certificates to millionaire players.
In a promotion dubbed the Millionaire Coin Hunt, any Australian player who has already achieved the goal of collecting one million coins in the game can send in their details, and they will have an exclusive, limited edition New Super Mario Bros. 2 certificate mailed to them.
The deadline to submit details, including a photo of yourself along with a photo of your 3DS screen showing your total of at least one million coins, is March 31st.
Visit the official promotion site here.