Zelda fans will need to act fast to get one of the 350 produced.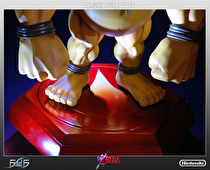 First 4 Figures has just opened pre-orders for an Exclusive Fire Sage Darunia statue. This exclusive version of Darunia, limited to 350 pieces worldwide, is only available from the First 4 Figures website for $209.99.
Zelda fans will recognize Darunia, the leader of the Goron race and eventual Sage of Fire, from The Legend of Zelda: Ocarina of Time.
First 4 Figures originally released a Darunia figure in 2011 that is nearly identical to the new exclusive version. The only difference between the old Darunia and the exclusive model is a design change given to the figure's base. The original version features a carpet from Darunia's room, while the exclusive version's base is meant to look like the fire medallion he stands on in the Chamber of Sages.
First 4 Figures has also hinted that they are working on making the other Ocarina of Time Sages on their official Facebook page.