Clive shoots and scores an update.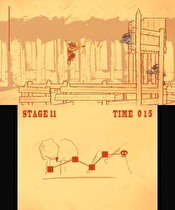 An update is now available in the Nintendo eShop for Gunman Clive in both North America and Europe.
The update was designed to fix a bug that crashed the game during stage 10. A few other unnamed issues were also addressed with this patch.
Gunman Clive is a side-scrolling platform game with a unique pencil line graphic style. The setting of the game is the old west, and the gameplay takes inspiration from classic platformers, the biggest inspiration seemingly being Mega Man. Check out our review of the game.