Megabloks are just not LEGO bricks, and other systems just aren't Wii U.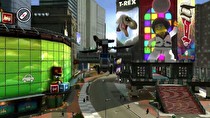 LEGO City Undercover would not be the same on different platforms according to Executive Producer Loz Doyle.
In an interview with Official Nintendo Magazine, Doyle states that "LEGO City Undercover would definitely lose something on other platforms, Chase is actually given a LEGO version of the GamePad as his Police Communicator, so it's really woven into the story."
Doyle also said that at the beginning of development there were many more ideas for the GamePad, but they decided to focus on making it a "police device"
LEGO City Undercover releases March 18 in North America, and the 28 in Europe.