Once scheduled for a December release, Zen Pinball 2 is almost here.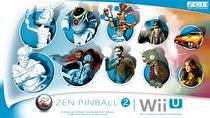 Zen Pinball 2 will release this Thursday, January 31, in Europe. North America will get the title "very soon" according to developer Zen Studios.
Zen Studio's apologized for the delay which has pushed the game to a February release in North America. The developer said "We thank you for your patience during the delay, but we had to make 10000% sure the game worked correctly so you all can have fun playing the game immediately."
In the same announcement, we learned of the different DLC tables available for purchase at launch. The following tables that will be available are:
Zen Classic Pack featuring Tesla, El Dorado, V12 and Shaman.
Marvel Pinball featuring Spider-Man, Wolverine, Blade and Iron Man.
Marvel Pinball: Avengers Chronicles featuring Marvel's The Avengers, Infinity Gauntlet, World War Hulk, and Fear Itself.
Marvel Pinball: Vengeance and Virtue featuring X-Men, Thor, Ghost Rider and Moon Knight.
Individual DLC Tables: Excalibur, Earth Defense, Sorcerer's Lair, Paranormal, Mars, Epic Quest, Plants vs. Zombies, Fantastic Four and Captain America.
Zen Pinball 2 is a free to play title, players are able to try out various modes and tables for free, but for a fuller experience will have to purchase the various DLC.