I may have to take down a beaver or two on the way, but it beats waiting.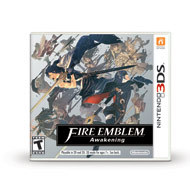 EB Games, a division of video game retailer GameStop, is selling Fire Emblem Awakening early in Canada.
When contacted, a representative at the retailer said that an email was sent out to EB Games locations across Canada detailing the early sale. Stores are informed to make their copies of Fire Emblem Awakening available for purchase as soon as inventory arrived.
Fire Emblem Awakening is scheduled for release February 4.