UPDATE: Now North America can chat and play with their Pro Controllers, too!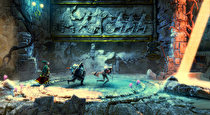 Trine 2: Director's Cut has received an update in Europe with support for the Wii U Pro Controller, voice chat in online multiplayer, German voice acting, improved visuals, and "a bunch of minor gameplay features and fixes, confirms Frozenbyte's Joel Kinnunen.
The update will be arriving to North America soon, with Kinnunen noting he expects it to arrive shortly.
Alongside news of the update, the studio confirmed the New Zealand and Australia release date for Trine 2: The Director's Cut as January 31. The game will arrive at a discount, which will be detailed further next week.
UPDATE: The Trine 2: Director's Cut title update is now available in North America.