A sad start to the new year.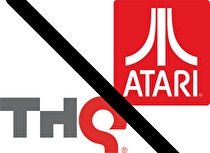 It might be the end of an era for two companies as THQ and Atari filed for bankruptcy in December and January, respectively.
THQ has officially ceased to exist as of Tuesday when the company's studios and properties were auctioned off. Atari, however, hopes to transition into digital publishing and live on in a new form.
Atari filed for bankruptcy in an attempt to break away from its French parent company, Atari SA, which has struggled for over a decade. The plan does come at a cost though, as filing for Chapter 11 bankruptcy requires Atari to sell the rights to their logo and some of their most well-known franchises such as Asteroids, Pong, Centipede, and Battlezone over the next 90 to 120 days. After the process is complete, Atari expects to re-launch as a mobile game company.
THQ has finalized their closure with this week's successful auction of most of their properties. Relic Entertainment was purchased by Sega, the intellectual property for Homefront was purchased by Crytek, Evolve (a new game from Turtle Rock Studios) was purchased by Take-Two Interactive, and both the publishing rights for South Park: The Stick of Truth and THQ's Montreal studio were purchased by Ubisoft. Before the auction, South Park studios filed a complaint over a contract disagreement over the rights of the upcoming South Park game and its involvement in the bankruptcy process, although it seems the dispute was settled as the game's rights were allowed for auction.