Train your brain or break some bricks. Totally up to you.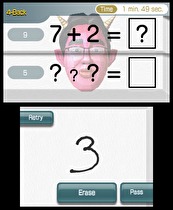 This week in Nintendo Downloads you have a few options afforded to you. Over on the 3DS eShop, you can partake in a new spin on the Breakout-formula with Cocoto Alien Brick Breaker, or you can make a go at the new spin on the Brain Age-formula with Brain Age: Concentration Training. New spins are totally in right now. But, if you rather sip from the cup of nostalgia, Super C is available on the 3DS Virtual Console, and you can also pick up Balloon Fight on the Wii U Virtual Console for only 30 cents!
eShop Retail Releases and Demos
3DS eShop Retail Releases:
Tom Clancy's Ghost Recon Shadow Wars - $29.99
3DS eShop Demos:
Brain Age: Concentration Training
3DS eShop Games:
Cocoto Alien Brick Breaker - $4.99
This Cocoto guy is a real renaissance man, just what can't he do? We've seen him fish, race, and jump. And now he's gonna bust open some alien heads? Thanks, buddy, for putting your neck on the line for us. Slide Cocoto from left to right, deflecting the rain of destruction right back at the alien forces who wish for nothing more than to see you perish. Taking place over five distinct planets, it doesn't look like these guys are going to give up without a fight. But that's fine, because you're Cocoto.
3DS Virtual Console:
Grab your spread gun and travel back to a simpler time. An era where armor and bald heads weren't mandatory to face off against alien scum. 1990, where all you needed was a tank top and an oiled up, muscular body to make a name for yourself. In this sequel to Contra, players once again take control of Bill Rizer and Lance Bean and live by the motto "Bros before foes." Shoot the enemy with an impressive array of weaponry, and save humanity.
Wii U Retail Release:
Wii U eShop:
The Cave has you choose three characters from a cast of seven (composed of the Monk, Hillbilly, Scientist, Twins, Knight, Adventurer, and the Time Traveller) to embark on an eye opening adventure. Within the cave they explore, each character will witness a glimpse of what their future holds. Environmental puzzles are littered throughout the cave, and characters must work together using their unique skill sets to press forward.
Wii U Virtual Console:
Balloon Fight - $0.30 (30-day limited time price)
For details on the Wii U's Virtual Console trial program, be sure to read our story here.