The demo that will have you saying, "Cartography? More like FUNtography."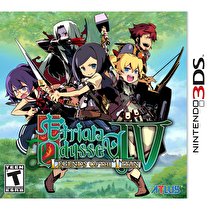 A demo for Etrian Odyssey IV: Legends of the Titan will arrive in the North American 3DS eShop on February 7. As announced by Atlus, the demo will allow players to transfer its save data to the full game.
The demo allows players access to the introduction, a mini-dungeon, the first skyship area (an explorable over world that hosts many dangers), and a portion of the game's initial main dungeon. The town made accessible in the demo will afford players the ability to swap Guild Cards (in-game representations of a player's statistics which includes defeated monsters and steps taken) and attain special items and equipment, all through QR codes.
The Etrian Odyssey series is a first-person dungeon crawler that has players mapping out the areas they explore. Legends of the Titan brings an easy mode to the table, which allows players to forgo losing progress upon death by warping out to the game's town and heal. This entry eschews 2D sprite work for polygonal models, and will display enemy models in the dungeons exactly as they appear in battle. Also gone is the series' traditionally synthesized music; instead, Atlus has fully orchestrated this installment's soundtrack.
Etrian Odyssey IV: Legends of the Titan will arrive in North America on February 26. No announcements have been made regarding a European release.