An HD remake of Wind Waker and a "brand-new" title are in development.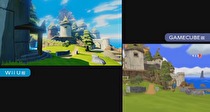 The Legend of Zelda: The Wind Waker, originally released for the GameCube in 2002, is being developed for Wii U with HD graphics, announced Eiji Aonuma, the producer of recent Zelda titles, in today's Nintendo Direct on January 23. This HD version will support Off-TV Play and will receive tweaks to its gameplay. The game is scheduled to release fall 2013.
Also, a brand-new Zelda title is under development for Wii U and coming sometime after Wind Waker HD, Aonuma revealed. This time around, he decided not to go into detail. Instead, he suggested it will be quite different from previous titles, and made its development concepts clear: rethinking Zelda's structure, such as having to make progress alongside a scenario, beating dungeons one by one in a predetermined order, and playing alone.
These are aimed at modernizing Zelda (i.e., remaking in the style that is attractive to current gamers). He confessed that they have tackled a similar challenge in the development of Skyward Sword, but could not change the linear structure.