A few years back, Activision contracted the Mutant Mudds developer to make a Crash Bandicoot demo.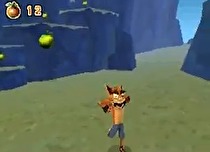 Renegade Kid made a Crash Bandicoot DS demo, called Crash Landed, for Activision sometime around 2008 or 2009, according to a video from an anonymous source close to Activision.
No other details about the video were given, outside of its existence and veracity. It's likely that Renegade Kid's DS demo could have been the portable entry in Radical Entertainment's cancelled sequel to 2008's Crash Bandicoot: Mind Over Mutant that was set for a 2010 release.
The demo shows off a full-3D world for Crash to explore with a beach setting. The camera followed Crash around, but could be altered minutely using a free-look option. Judging by how this game runs, it likely could have been a spiritual predecessor to Maximillian and the Rise of the Mutant Mudds, the 3D platformer that evolved into Mutant Mudds.
Activision acquired the rights to Crash Bandicoot when they acquired Sierra Entertainment in 2008. Mind Over Mutant was the final console game in the series, though that was in the works when the series was handled by Sierra still.
The Crash Bandicoot series has not been totally dormant, though. Activision released a few mobile releases, including two Crash Nitro Kart games. Radical Entertainment and High Impact Games have also been behind some cancelled revamps, which can now be joined by Renegade Kid's DS title, shown in the video below.