Ring in the new year with a dungeon crawler, a rootin' tootin' cowboy, and more!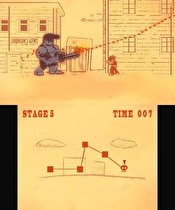 What better way to kick off 2013 then by showing some eShop pride and pick something up from today's rather interesting line-up of downloadables. 3DS eShop lovers can dip their toes into the living dungeons found within Unchanined Blades, slide their entire foot into the platforming boots of Gunman Clive, and partake in the wild virtual sport, Air Battle Hockey 3D. Over on DSiWare players can brave the downhill dangers of Snowboard Xtreme, and save the galaxy in the appropriately titled Galaxy Savers.
eShop Retail Releases and Demos
3DS eShop Retail Releases:
3DS eShop Games:
There's a snake in my boot! Or should I say...there's an excellent game in my eShop! Make sure to read our review for this fantastic western romp starring the titular Gunman Clive. Run, jump, and shoot your way through 20 levels. Turns out this wild west is indeed very wild, it's not long before you're facing off against robotic trains and bomb toting fowl.
It's fun to think of showing your six-year-old self Metroid Prime or Super Mario Galaxy, letting them have that glimpse of the future. But brain melts are a real thing folks, and who wants to chance it. Take it slow and show them Air Battle Hockey 3D, its similarity to Pong is sure to ease them into the future a little better. The title has you looking down a corridor of sorts. A ball bounces between you and the opposite ball, with the touchscreen controlling the paddle used to deflect the ball back at your opponent. Power-ups can be earned to use against your opponent. Items which speed up the ball, or force it to change direction mid-flight are at your disposal. Good luck with the time travelling.
An eShop release of a Japanese retail game, Unchained Blades casts you as a pretty rude guy named Fang. After enraging the Goddess Clunea with his arrogance, he is cast back down to his world in a weakened form. Now it's up to you to pick up the slack, crawling through several living dungeons known as Titans. Should you defeat each one, you'll have a chance to hold court with Clunea once more, and possibly exact your revenge. The game comes from several acclaimed Japanese developers, with folks having been involved with the Grandia and Lunar series, and music from Nobuo Uematsu of Final Fantasy fame.
DSiWare Games:
Prepare yourself for 360° of carnage! Your mothership is under attack, and your dadship left while you were a baby, so he's good for nothing. So it's all up to you childship! Travel along the circular shields of the mothership, shooting whatever comes your way. Ensure that no one damages this relationship! Team up with a buddy in two-player mode, because nothing can get in the way of friendship.
Somewhere, a dorky letter E is hanging out with other, equally nerdy Es wondering just how they ended up in this void. It all becomes clear once you get a glimpse at the radness of Snowboard Xtreme. Steer your cool boarder down a dangerous path lined with hazards you must weave around or jump over. It's a race against the clock, but successfully navigation around the turn gates will add to your timer, creating some breathing room. Get ready to shred some pow'.