Ring in the new year with a new 3DS download title.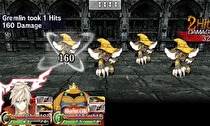 Published by XSEED Games, Unchained Blades will release in North America on the 3DS eShop on January 3 at the price of $29.99.
Earlier this year we first learned that the dungeon-crawling RPG would be making its way to North America. In August we were told it would be made available sometime during the remainder of the year. While it didn't quite make one of its original goals, we won't have to wait much longer for its release.
Unchained Blades' $29.99 price tag makes it the most expensive title available exclusively on the eShop (not at retailers).
The game follows the story of Fang, a dragon emperor who has had all of his powers taken from him. Join up with other party members as you venture through dungeons in the first-person perspective. Unchained Blades allows you to gather monsters to help you in combat on your way.