The Nintendo 64 classic.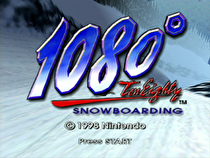 1080° Snowboarding is now available as a Club Nintendo reward for 150 coins. This Wii Virtual Console download will be available as a reward until January 6, 2013.
1080° Snowboarding was originally released for the Nintendo 64 in 1998.
1080° Snowboarding replaced ThruSpace as this week's reward. Those looking for a portable downloadable Club Nintendo reward also have the option of buying Brain Age Express: Sudoku for 150 coins until December 16, 2012.