Update: The game is now announced for North America.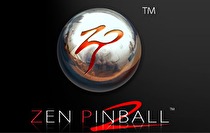 Update: The game is now officially coming to North America this month as well. We also have learned the software will be a free download that gives you access to a number of tables as free trials. To gain full access to the tables you will have to purchase them separately.
Original Story: Zen Pinball 2, developed by Zen Studios, is coming to the European Wii U eShop this month according to today's European Nintendo Direct Presentation.
The game was released earlier this year on other platforms, but is now finally making its way to the Wii U. Whether a North American release can be expected this month as well is yet to be known.
Zen Pinball 2 is the sequel to Zen Pinball which was released on the Playstation 3 in 2009, and on the 3DS in 2012.