The mini-game collection won't make it this year, but early next year instead.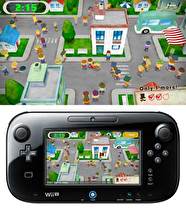 Game & Wario will be releasing in Japan early next year, according to Nintendo President Satoru Iwata during this mornings Nintendo Direct presentation.
Game & Wario features 16 mini-games, all of which can be played solely on the GamePad. These mini-games also support up to 5-player multiplayer.
During the presentation, a game was shown off in which you complete a plethora of micro-games while pretending to be asleep.
Game & Wario is still scheduled to release during the systems launch window in North America.