Ubisoft's platformer is coming to Japan courtesy of Nintendo in 2013.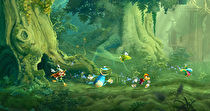 Rayman Legends, developed by Ubisoft, will be published by Nintendo when it hits Japan next year, according to Nintendo President Satoru Iwata during the most recent Japanese Nintendo Direct.
Currently, the game is slated for a Q1 2013 in North America and Europe. It was originally set for a late 2012 release before a short delay. Recent rumors peg it for a February 26 release in North America.
Rayman Legends is a sequel to 2010's Rayman Origins, which only came to Japan on 3DS and PlayStation 3.
Nintendo previously published Japan-exclusive versions of the Just Dance games with Ubisoft. ZombiU, Assassin's Creed III, and other Ubisoft Wii U titles coming to Japan are being published by Ubisoft.