Not coming this year, but still on track for the spring of next.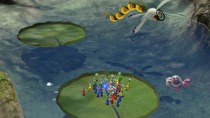 Both Pikmin 3 and Wii Fit U are still scheduled to arrive during Spring 2013 in Japan, Iwata confirmed during today's Nintendo Direct.
During a video of Pikmin 3, we were able to check out a few of the new enemies coming to the game. A giant moth-like creature was underground and could inhale Pikmin. A crab-like creature above ground could grab Pikmin, and then encase them in bubbles so they would fly away.
Both of these games are also scheduled to come to North America around the same time.