Mario is still going for gold!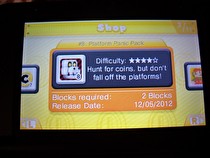 Two new level packs for New Super Mario Bros. 2 are currently scheduled to release tomorrow, December 5. The two new packs are Coin Challenge Pack C and Platform Panic Pack.
This news comes directly from the New Super Mario Bros. 2 Coin Rush Shop where players can view the new level packs, but cannot currently purchase them.
It's likely that the new level packs will be officially announced during tomorrow's Nintendo Direct presentations.