More justice could be served, if you want.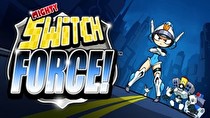 More levels could be added to Mighty Switch Force: Hyper Drive Edition in the future, according to WayForward Technologies level designer, Chris Schroder during an interview with Siliconera.
As a response to a question on the addition of more content, Schroder said the following: ''You know it's hard to say just yet. I mean we don't have any plans, I should say that. Then again, we didn't have any plans to add new levels for the first one. If it does well and people like it then yeah we'll keep adding stuff. We can keep on adding levels if you guys want.''
Mighty Switch Force: Hyper Drive Edition is an updated version of WayForward's acclaimed platformer, which saw release on the Nintendo 3DS's eShop late last year. As the head officer in this action packed title, the player can, at the tap of a button, move all platforms from the background to the foreground and vice versa. Using this signature mechanic, you must find all of the Hooligans in each level and reach the goal.
The game is currently available on the Nintendo eShop for the Wii U in North America, and should be coming to the European side of the world sometime in the future. For more Patricia Wagon related content, free feel to check out Zachary Miller's full review on the title.