Drive, fly, and swim your way to savings.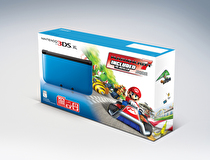 A 3DS XL bundle containing the handheld and Mario Kart 7 will be sold at retail for $199.99 come December 7.
The bundle includes a blue/black 3DS XL, and Mario Kart 7 pre-installed on the handheld's 4GB SD card.
Separately, the system alone costs $199.99, with Mario Kart 7 selling for $39.99 in retail and the eShop.