Update: Now coming to North America too!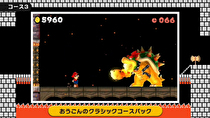 Relive some retro level dreams in Coin Rush for free!
To celebrate the global tally total of over 300 billion coins, Nintendo has released a special Golden Classics Course Pack for New Super Mario Bros. 2 in Japan.
The pack will feature rearranged levels from Mario Bros., Super Mario Bros. (levels 1-1, 1-2 and 1-4) and Super Mario Bros. 3 (1-1 and 1-5), with new features and secrets to fit in with the Coin Rush theme.
Satoru Iwata revealed through a Chotto Nintendo Direct that the pack will be free to all players until January 31 of next year. After that, the pack will cost 200 yen to download.

There has currently been no announcement of the pack becoming available outside of Japan just yet, but as with the previous packs, an international release should follow soon.
UPDATE: Nintendo of America announced this morning that these levels would also be coming for free in North America.