You ain't no Pokémon master 'til you fill the Pokédex 3D Pro! You gotta catch 'em all!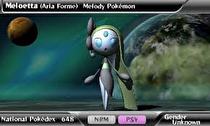 While the North American eShop enjoys the brand new Paper Mario: Sticker Star this week, the European downloads update is more standard fare. We've got a new-and-improved interactive Pokédex, surfing, discounted pinball, another batch of art DLC and more.
Pokédex 3D Pro is the centrepiece on the 3DS eShop this time. As with the original Pokédex 3D, this application allows users to view their collection of Pokémon and various facts about each one. Pro adds the monsters from Pokémon Black 2 and White 2, and introduces a challenge mode with dozens of trivia quizzes. Pokédex 3D Pro can be purchased for the princely sum of £13.49/€14.99.
There is one more new piece of 3DS Download Software, in the form of Rising Board 3D. Players surf through a series of auto-scrolling randomly-generating levels, whilst performing tricks off large waves. The game is available for £2.69/€2.99.
On DSiWare, Cake Ninja 2 is the sole new game. This arcade-style score attack sequel is fairly self-explanatory from its title: you are a ninja and your job is to slash cakes as they fly by on the touchscreen with your stylus. This costs £4.49/€4.99 on the eShop, or 500 DSi Points if bought from the DSi Shop.
That's it for new releases, but for the second week in a row, owners of New Art Academy can download two additional art lessons, at £1.79/€1.99 each. This time, the two packs of DLC are Fur & Feathers and Paint Like Monet.
Last but not least, just for a limited time, Marvel Pinball 3D is reduced to £4.49/€4.99. One of many pinball titles from Zen Studios, Marvel Pinball includes four unique tables, based on Blade, Invincible Iron Man, Captain America and the Fantastic Four, respectively. Players can compete with their friends over online leaderboards for the highest scores.
As per usual, the Wii Shop Channel isn't left out, with its customary Virtual Console offering. Shock Troopers for NeoGeo is a run-and-gun game that originated in the arcades, starring an international cast of playable characters and featuring two distinct modes of play. The game is yours for 900 Wii Points.