Adding another Japanese term to Nintendo lore in other regions.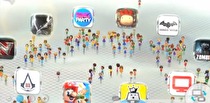 The main screen of Miiverse, featuring Miis lingering around icons of games and applications, will be called WaraWara Plaza in all regions, according to recent Nintendo Directs.
At E3 2012, Nintendo President Satoru Iwata revealed the area was called Mii WaraWara during development because of, as Nintendo of America's Bill Trinen put it, "how the crowd of Mii characters murmured and moved about."
Trinen further elaborated, saying that "You seemed to like the name so we decided to keep it."
The Miiverse and the WaraWara Plaza will be available on the Wii U, most likely courtesy of a day one patch that will also add the eShop and other online functionality.