Not all feature a demo, but they do seem to be everywhere.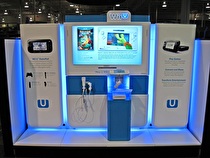 More than 5,000 Wii U kiosks are now in place at select retail stores across the United States.
Gamers looking to get some hands-on time with the system can visit a participating Target, Best Buy, GameStop, Walmart, or Toys 'R' Us location. If you have yet to find a retailer with the kiosk on display you can check out Nintendo's website to help aid in your search. While the site features a large number of participating locations, some stores with the kiosks are not yet displayed.
Depending on the location, different kiosks are in place. Certain kiosk stations feature a game demo (Rayman Legends); other kiosks are filled with videos focusing on the upcoming games and system features.
The Wii U releases across North America on November 18.