China is getting its own version of the Nintendo 3DS XL soon.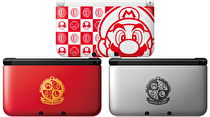 Nintendo's publishing partner for its various handheld systems in the mainland of China, iQue, will be releasing their own version of the Nintendo 3DS XL this coming December.
The iQue 3DS XL, as the system will be known in that country, will come in three different variations. The silver and red models will feature a Mario and Luigi crest on the front saying ''we are twins'', with Super Mario written under it in fancy writing. There is also a special white and red model, which features Mario's face as well as many Mushroom and Coin emblems. All three versions will come with Super Mario 3D Land and Mario Kart 7, installed on the included SD card.
Most of the main features of the system are available, like the StreetPass Mii Plaza, the AR Games and the Photo application. The system will however lack an eShop for the time being, and it has not been announced if this will be made available in the near future. The system currently also lacks a price point, which should hopefully be resolved soon.