The Denpa are coming! The Denpa are coming!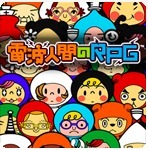 The sequel to The Denpa Men: They Came by Wave will come to North America's eShop, as confirmed by the official Denpa Men Twitter account.
Known as Denpa Ningen no RPG 2, it was released in Japan on September 26. The sequel plays host to a number of additions, including a world map, StreetPass functionality, a fishing mini-game, and the ability to transfer your full party from the first game.
The sequel's world map replaces the location-based exploration of the first game. Instead of simply choosing a destination, players can now explore a large world by land or sea in search of dungeons.
The StreetPass feature allows players to extend the life of a lamp's glow as they explore a pitch black dungeon. The more StreetPasses they have, the longer they can stay.
No release date was provided for The Denpa Men 2. As for Europe, plans for the sequel will be discussed after the original's release there.