Square Enix's new IP for the 3DS is about to brave the digital frontier.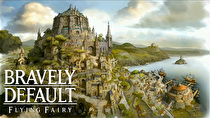 Bravely Default: Flying Fairy is coming to the Nintendo 3DS eShop as a downloadable title on November 1 in Japan. The digital version will be cheaper than the retail copy, priced at 5,400 yen compared to 6,090 yen for the boxed version.
Bravely Default was released in Japan on October 11. There is still no word whether or not the game will see a release in Western markets.