Australian families can team together to compete for the chance to win cool prizes!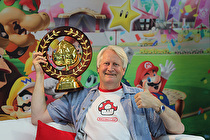 Australian families will have the chance to participate in a nationwide Mario Kart 7 competition throughout November to find the fastest family.
The competition, sponsored by Nintendo, is free to enter and will be happening at various EB Games stores throughout the country. The family teams must consist of two people with at least one of the entrants having to be older than 18 years. A minimum age gap of ten years between the two teammates is also a must.
The times dates and locations are as follows:
NSW
Saturday November 3, 11am – 3:30pm
Macarthur Square, Shop U23 MacArthur Square, Gilchrist Drive, Campbelltown, NSW, 2560
QLD
Saturday November 3, 11am – 3:30pm
Logan, Shop 72, Logan Hyperdome, Cnr Pacific Hwy & Bryants Road, Loganholme, QLD, 4129
VIC
Saturday November 10, 11am – 3:30pm
Swanston Street, 67 Swanston Street, Melbourne, VIC, 3000
SA
Saturday November 10, 11am – 3:30pm
Rundle Mall, 50 Rundle Mall, Adelaide, SA, 5000
WA
Saturday November 17, 11am – 3:30pm
Midland, Shop 95 Midland Gate Shopping Centre, Brockman Road, Midland, WA, 6056
Prizes that are up for grabs include a Nintendo 3DS XL, (signed by the voice of Mario Charles Martinet) Nintendo 3DS games and a special limited edition Mario Kart 7 trophy which is styled like the ones you win in the Mario Kart games.