Nintendo continues to deliver on their promise with the new Pokémon title.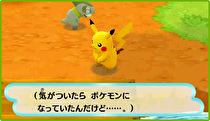 Pokémon Fushigi no Dungeon: Magnagate to Mugendai Meikyu (Pokémon Mystery Dungeon: Magnagates and the Infinitely Great Labyrinth) will be available digitally through the Nintendo eShop, when it arrives on November 23 in Japan. This information was put on Nintendo's official website earlier in the week.
The title will, once you decide to download it on your Nintendo 3DS, take up around 8,192 blocks of memory, which is over 1 gigabyte. Pokemon Mystery Dungeon for the Nintendo 3DS can be downloaded on its launch day, starting at 9:00 JST.
The new entry in the long-running series will be developed by Spike Chunsoft, which is fitting considering Chunsoft did most of the work on the series before their company merge with Spike. The Pokémon Mystery Dungeon games are roguelikes at their fundamentals, with players navigating through randomly generated dungeons and making moves in a turn-based fashion. Pokémon Fushigi no Dungeon will look sharper than ever before, thanks to the use of the models from the Pokédex 3D Pro application. Currently, there are no plans known about a western release for the game, but considering past series releases, it is likely the game will come over.