The second week of new year is going to be brutal!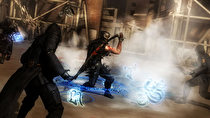 European gamers will have to wait until January 11, 2013 to get their hands on Ninja Gaiden 3: Razor's Edge. This was revealed on Nintendo of Europe's website earlier in the week.
During the Wii U Preview in September, the European wing of the company mentioned that the game would be out in the launch window. The launch titles were talked about in depth, but most titles in the window were left with little information, with no idea on when to expect them.
Ninja Gaiden 3: Razor's Edge is an updated version of the third game, which was released earlier this year on other consoles. This new version will include all the downloadable content of the original, as well as various enhancements to smoothen out the gameplay further. The game will also include a new cooperative mode, in which you can also play as Ryu as well as the female ninja Ayane.
Ninja Gaiden 3: Razor's Edge is planned as a launch title in North America and will be available when the console hits stores on November 18. Japan will also see the game on launch, though the system will hit after Europe on December 8.