Hope you're prepared for the free update, because Grannie don't come cheap.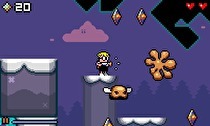 The 20 new stages that come as part of next week's update to Mutant Mudds are only accessible once the player has achieved 100% completion.
The news comes from a Twitter conversation, where Jools Watsham, co-founder Renegade Kid, who made the game, was asked if the content was locked behind any sort of completion gate, akin to the update toMighty Switch Force. Watsham confirmed that yes, players must have all 40 Water Sprites and all 2000 Golden Diamonds.
For a breakdown of what next Thursday's update brings, please read our summary here.