Nintendo is pulling out all the stops with playable demos, tournaments and more.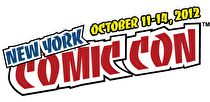 Nintendo announced their New York Comic Con 2012 plans, featuring an array of Wii U and 3DS titles, along with other special events. From October 11 through October 14, attendees will have the opportunity to play various game demos, as well as participate in multiple activities and tournaments at the Javits Center.
Paper Mario: Sticker Star fans will be able to collect up to five different stickers based on the game at Nintendo's main booth (No. 1510). Additionally attendees can be "sticker-bombed," that is covered in as many Paper Mario: Sticker Star stickers as possible, just outside the main entrance of the Javits Center.
Nintendo also has another booth (No. 2921) just for daily gaming tournaments. Event attendees can compete in both New Super Mario Bros. 2's Coin Rush mode and Kid Icarus: Uprising free-for-all battles. Prizes include Gold Mario pins and 3DS XL systems for the New Super Mario Bros. 2 tournaments. Those competing in the Kid Icarus: Uprising tournaments can look forward to winning Series 2 AR card packs, Kid Icarus pins, Kid Icarus: Uprising AR Card Core Sets (over 400 cards), and 3DS XL systems.
Those looking to indulge in game demos will be able to do so at Nintendo's main booth (No. 1510). The full list of playable demos includes:
Wii U
The Wonderful 101
Nintendo Land
New Super Mario Bros. U
Game & Wario
Pikmin 3
Ninja Gaiden 3: Razor's Edge
ZombiU
Scribblenauts Unlimited
Rayman Legends
Batman: Arkham City Armored Edition
3DS
Paper Mario: Sticker Star
Crashmo
Disney Epic Mickey: Power of Illusion
Adventure Time: Hey Ice King! Why'd You Steal Our Garbage?!
Professor Layton and the Miracle Mask
Luigi's Mansion: Dark Moon
Style Savvy: Trendsetters
Kid Icarus: Uprising
New Super Mario Bros. 2
DS
Pokémon Black Version 2 and Pokémon White Version 2
Nintendo is also inviting everyone, even non-Comic Con attendees, to an outside Pokémon Black 2 and White 2 launch celebration one block from the Javits Center (SIR Stage37 at 508 W. 37th St). The event will be open from noon to 8 p.m. each day and will have activities such as a Pokémon photo booth, Pokémon ice sculptures, Pokémon giveaways, Genesect download stations, Pokédex 3D Pro demos and a live performance from the band I Fight Dragons.