Playing cartographer has never been so rife with danger!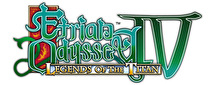 The fourth entry of Atlus's Etrian Odyssey series is coming to North America. Titled Etrian Odyssey IV: Legends of the Titan, it is the first installment on the 3DS and is due in 2013.
The Etrian Odyssey series is a first-person dungeon crawler that has players mapping out the areas they explore. Legends of the Titan brings an easy mode to the table, and eschews 2D sprite work for polygonal models. Also gone is the series's traditionally synthesized music; instead, Atlus has fully orchestrated this installment's soundtrack.