Do you want your 3DS XL with a game or an adorable design?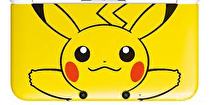 A yellow 3DS XL with a Pikachu design and a system bundle featuring Mario Kart 7 were announced for launch in Europe later this year at the latest Nintendo Direct presentation.
The Pikachu-themed 3DS XL does not have a definite release date at this point, but president of Nintendo of Europe Satoru Shibata stated that this system would be sent out to retailers in limited quantities and would only be available for a certain time.
Meanwhile, the Mario Kart 7 bundle will be released in European markets on November 16, and will include a white 3DS XL with a digital copy of the game loaded onto the packed-in SD card. Pricing for this bundle will be set by individual retailers.