Save data CAN be transferred from cartridge to an SD card for use with the eShop version...in spring 2013.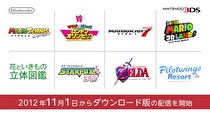 Past retail 3DS releases will be coming to the eShop in Japan on November 1, according to a recent Nintendo Direct. You can also transfer your save data from the cartridge to an SD card to work with your download version of the game if you double-dip. However, that function won't be available until the spring.
The list of the games include a number of first-party titles, and can be seen below.
Mario Tennis Open
Mario & Sonic at the London 2012 Olympic Games
Mario Kart 7
Super Mario 3D Land
Hana to Ikimo no Rittai Zukan

Star Fox 64 3D
The Legend of Zelda: Ocarina of Time 3D
Pilotwings Resort
The video also details how you can purchase the games, either on the eShop or in stores using various eShop cards for money or the specific game. More games will be on the way and will be announced later.
There is currently no word as to whether this will be happening in North America or Europe.