How much is Square Enix earning on their new endeavor?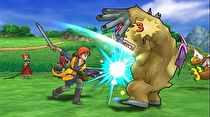 Dragon Quest X has shipped over 550,000 units so far, with 300,000 of them having an active subscription. The report comes from the Anime News Network, who translated the information from the Nihon Securities Journal.
While the game isn't shipping the usual amount of units when compared to other Dragon Quest games, the MMOPRG is on track to hit a huge subscriber base. Each subscriber is spending 1,000 Yen ($13) per month to keep playing, which means Square Enix makes approximately 300 million Yen ($3.9 million) with these current numbers. It doesn't, however, top the highest peak of Final Fantasy XI at the moment, which was an active subscription base of 600,000.
Dragon Quest X shipped on August 2 of this year and will be coming to Wii U at some point in the future. Owners of the Japanese Wii U Premium bundle can look forward to exclusive access to its beta once the console starts hitting store shelves in December. They are currently no plans for territories outside of Japan.