Some bad things are afoot in the realm of the footie games.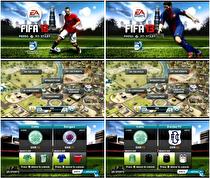 FIFA 13 is reported to be on Wii "just a squad and kit update," when compared to last year's FIFA 12. This was reported by Nintendo Gamer and Official Nintendo Magazine's Chris Scullion.
The writer made a side-by-side analysis of both games and the results are quite interesting. The interface had no overhaul in the slightest, with various HUD elements intact from the previous version. Similar things are afoot in the FIFA's message center, where the exact same messages can be found in both iterations of the long-loved EA franchise.
While many buy the HD or the Nintendo 3DS versions, the Wii versions still sell a quite decent amount of units. The games consistently make the top ten Wii software in various different countries across Europe. FIFA 13 is now available worldwide on various different platforms, with a Wii U version coming at the console's launch.