Tons of people pile in for games, cosplay and swag.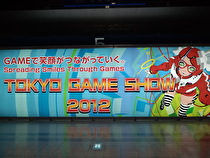 The 2012 Tokyo Game Show saw high numbers of attendance this year, with 223,753 attending the event during its duration from September 20 to September 23.
Saturday, the first public day for the show, saw a record 94,989 people attend the show. Here is a break down of attendance over the four day period. Please note that the first two days were business days and were not open to the public. The numbers in parentheses are from the 2011 show.
September 20: 27,391 (25,631)
September 21: 24,504 (27,042)
September 22: 94,989 (86,251)
September 23: 76,869 (83,744)
Total: 223,753 (222,668)
Be sure to check out our TGS coverage here.