Try Capcom's Lost Planet spin-off for free in the near future!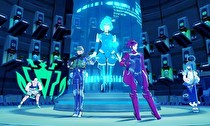 During the presentation of EX Troopers at Tokyo Game Show 2012, Capcom announced that there will be a free demo for both the PS3 and 3DS versions of the game. This was reported by the Japanese outlet 4gamer, who was at the presentation in question. The demo in question should hit before the game's November 22nd release date, though no further specific details were given.
EX Troopers is an action shooter that puts players in the role of Bren Turner who is enrolled in an academy on EDN-3rd, one of the main locations from the game. The game features a cel-shaded, anime-inspired look, that sets it apart visually from the main games in the Lost Planet series.