No guarantees, but members in both the free and paid tiers of GameStops' customer loyalty program can sign up to get notified when the retailer has a Wii U for them to purchase after launch.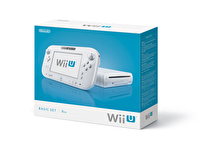 GameStop's newly revealed Wii U Wait List program may give holiday shoppers another option in their quest to pursue Nintendo's new console before the end of the year. The newly announced service is open only to members of GameStop's PowerUp Rewards™ customer loyalty program, but thankfully it appears that gamers in both the free and paid tiers are eligible. (Consumers can pay US $14.99 for a yearly membership in the PRO tier with higher and more exclusive rewards.)
Consumers secure a place on the wait list by visiting their local GameStop store and starting the process from there, signing up as a PowerUps Rewards member on the spot if necessary. When a system becomes available after November 18, the next person on the wait list will be contacted by email and/or phone, after which they have 48 hours to purchase the system in full at their local store. They pay no money when actually signing up on the wait list itself.
However, GameStop takes care to note that they in no way guarantee a Wii U system at any specific date or price. They also make no mention of how they will handle consumer preferences for the Wii U Basic or Deluxe bundles. They do, however, mention a limit of two systems per household.
For more details on the wait list, visit your local GameStop or www.GameStop.com/WiiUWaitList, and stay tuned to Nintendo World Report as we continue to cover the build-up to the Wii U launch, as well as the excitement that will surely come after.