Also, the E3 2011 demos Shield Pose and Measure Up have apparently found a home in the mini-game collection.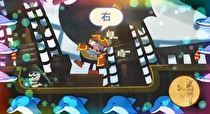 Nintendo's upcoming Wii U title Game & Wario will challenge players to achieve high scores in its mini-games instead of challenging players with a rapid succession of short, fast microgames like previous franchise entries. This slight shift in the WarioWare formula came to light during the second of last week's Japanese Nintendo Directs. Wii launch title WarioWare: Smooth Moves had over 200 mini-games included, but so far only a handful of mini-games in Game & Wario have been revealed.
Although Nintendo President Satoru Iwata didn't directly address them in his presentation, some new games were revealed in brief video footage that accompanied his remarks. One of them looked remarkably similar to the E3 2011 Shield Pose demo where players hold up the Wii U GamePad and angle it left or right in a rhythm game to block pirate-launched arrows. Another game, based on another E3 2011 demo, Measure Up, looked to task players with drawing a triangle on their GamePad's touch screen but then measured the sides to ensure that the shape fit the requirements given.
While he glossed over those games, Iwata spent time delving deeper into two other Game & Wario experiences: Ski and Arrow.
In both games players hold the GamePad rotated 90 degrees so that it is taller than it is wide. In Ski, they tilt the GamePad to steer WarioWare regular Jimmy down a mountain slope, racing against the clock. The GamePad screen shows a top-down view of the action, but the TV screen shows the 3D action with a dynamic camera for the entertainment of spectators. In Arrow, players maneuver the GamePad to aim at enemies and launch arrows by pulling back on a virtual bow on their GamePad's touchscreens, scoring points for each enemy defeated. If enemies get too close, they jump onto the GamePad touchscreen and players must tap on them in a last ditch effort to defend themselves.
Game & Wario is slated for an early 2013 release in Japan, and was part of the list of 50+ games that Nintendo of America touted would release for the Wii U by March 2013.