The Wii U version's getting some online interaction this November.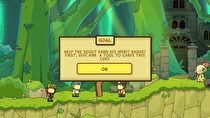 The Wii U launch title Scribblenauts Unlimited will "use the Nintendo Network to share objects created with the Object Editor," according to a 5TH Cell representative.
The game's box art includes the Nintendo Network logo. The 3DS version of the game, slated for a December release, will not include online interaction or the highly touted Object Editor, which lets players create their own objects by stringing words together. It will, however, feature StreetPass functionality that allows players to share creative puzzle solutions with others.
Scribblenauts Unlimited is coming to Wii U on November 18. The 3DS version is due out in December.