The special edition puzzle game will feature giant 80x80 images that are solved in individual picross-sized chunks.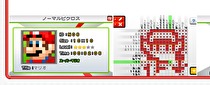 Nintendo has just added Club Nintendo Picross as a reward to the Japanese Club Nintendo customer loyalty program.
The game is a special edition of Nintendo's Picross franchise where players use clues to determine what spaces in a 10x10 or 15x15 grid to mark and what to leave empty, revealing a pattern or image when they're done. (These puzzles are also known as nonograms).
On top of that, the game will feature two large 80x80 grids that players complete bit-by-bit. Each "microsphere," as the 80x80 grids are called, is actually composed of many smaller solvable picross puzzles. When all the individual puzzles are solved, the entire 80x80 reveals an image of an iconic Nintendo character.
Nintendo also revealed that players needing a little help solving picross puzzles can rely on two hint features. Just in case players haven't spotted it yet, the "navigation feature" highlights cases where players have created 100% certainty that a grid space is either filled or empty. Another feature, "Hint Roulette," may be familiar to players of Mario Picross (available on the 3DS Virtual Console eShop) -- if players need a running start for a puzzle, they can have the answers in a random row and column revealed for them.
Japanese Nintendo Club members will need to redeem 80 Club Nintendo Points to get the reward, which is available as downloadable software for the 3DS. The single-player game has 3D graphics, a single save file, and a CERO A rating.
There's no news yet on whether this reward will show up in Club Nintendo catalogs outside of Japan.