The final demo features all the stuff from the old demos and more rolled up into a neat little package.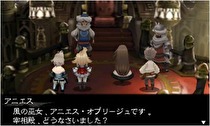 The fifth and final demo for Bravely Default: Flying Fairy will be released on the Nintendo 3DS eShop in Japan this week on September 12.
The newest demo will feature elements from the previous demos. with things such as battles, exploration, and also the game's jobs and abilities. The demo also includes a few new modes, such as the Rebuild Norwend Village mode, which allows players to collect friends via StreetPass to repopulate the destroyed city. The more people you StreetPass, the village will get closer to being rebuilt. Players can bring up to 20 of these characters to the final build of the game.
The latest demo also includes several other features, such as Summon Friend, which lets players transfer characters to their others via StreetPass or through connecting locally. "AbLink (short for Ability Link)," a feature that allows players to make use of these transferred characters.
With the release of the new demo encompassing everything from the past releases, the first four demos will be removed from the Nintendo eShop. Bravely Default: Flying Fairy is set to release in Japan on October 11.