Thanks to New Super Mario Bros. 2 and Dragon Quest X, the two companies have seen great profits.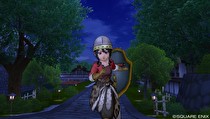 Nintendo and Square Enix lead Enterbrain's software revenue list for the month of August.
Nintendo lead the list with a 28.5% of all software revenues, mainly in part to the release of New Super Mario Bros. 2 for the Nintendo 3DS in July. Following Nintendo is Square Enix, who enjoyed a 26% share of software revenue thanks to the release of Dragon Quest X.
The full list by Enterbrain, which covers the period between July 30 and August 26, is as follows:
01. Nintendo: 28.5%
02. Square Enix: 26.0%
03. Namco Bandai: 14.8%
04. Pokemon: 5.3%
05. Konami: 3.2%
06. Capcom
07. Atlus
08. Spike Chunsoft
09. Nihon Columbia
10. Ubisoft