September 20 is the day!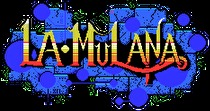 La-Mulana's website has announced the game's WiiWare release. While Nintendo's site previously confirmed the North American release day of September 20, the game's official site confirms that the European release will occur on the same day. The game's publisher will be EnjoyUp games.
La-Mulana is a traditional action-adventure platforming game that was originally released in 2005 for PC. The WiiWare version is slightly different from the original, with updated music and graphics. The game has already been available as a WiiWare title in Japan since June.