Get ready for Metroid Blast and Balloon Trip Breeze!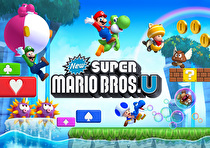 New Super Mario Bros. U will have multiple branching paths and more, and Nintendo Land is adding Metroid and Balloon Trip attractions, according to Game Informer's October issue, which will feature New Super Mario Bros. U on its cover.
New Super Mario Bros. U will feature dozens of levels through out a one-world map, similar to Super Mario World for the SNES. The game will also feature multiple branching paths, map panning, and end-world castles guarded by Koopalings. There is also mention of Boost Rush mode, which features auto-scrolling, forcing you to move forward at a fast pace for an additional challenge.
Game Informer noticed seven different worlds, including Acorn Plains, Sparkling Waters, Frosted Glacier, Layer Cake Desert, and more. Some of the other worlds were reminiscent of Forest of Illusion and Sky World.
Metroid Blast and Balloon Trip Breeze are the two new Nintendo Land attractions.
Metroid Blast, an asynchronous arena shooter that was demoed at E3 2011 as Battle Mii, is said to accommodate five players. The Wii U GamePad is used to control "Samus' Ship" and the four other players use the Wii Remote Plus and Nunchuck configuration in order to try and shoot down the player controlling Samus' Ship. The mini-game is also said to feature multiple maps to play in, Samus costumes that Miis use, a take on horde mode, free-for-all and team deathmatch modes, and will not contain any type of radar system.
Balloon Trip Breeze, the second mini-game to be mentioned, is said to be similar to Balloon Fight, a classic NES title released in 1984. Players control a floating Mii through side-scrolling levels that will contain multiple hazards to avoid. The GamePad's stylus will be used to guide gusts of wind, which will in turn, direct the floating Mii forward. The goal of the game will be to fly as far as possible using both the TV's full scale of view in combination with the GamePad's up-close view. Nintendo hopes to breed competition through score attacks.
Game Informer promises more information about Wii U this coming month, and we'll be blowing the lid off the system on September 13, during Nintendo's Wii U-focused press event.